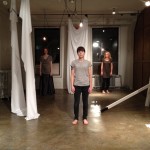 Building Rooms is a modular, interdisciplinary performance project, initiated by writer Alexis Diamond and sculptor Shane Krepakevich. Minimalist and inherently flexible, the text component consists of one half of a dialogue, while the other half is suggested through non-textual means.
The first iteration, presented in a theatre setting, during les Journées de la culture in Montreal in September 2013, was conceived as a dialogue between actor and physical space.
In Building Rooms 2.0, which will be presented in various types of concert settings, the dialogue will be between the text, projected on video, and a live musical performance by composer Stephanie Moore.
Andrea Frankle, Patricia Summersett and Ellie MacDonald
Photo Shane Krepakevich