About Alexis Diamond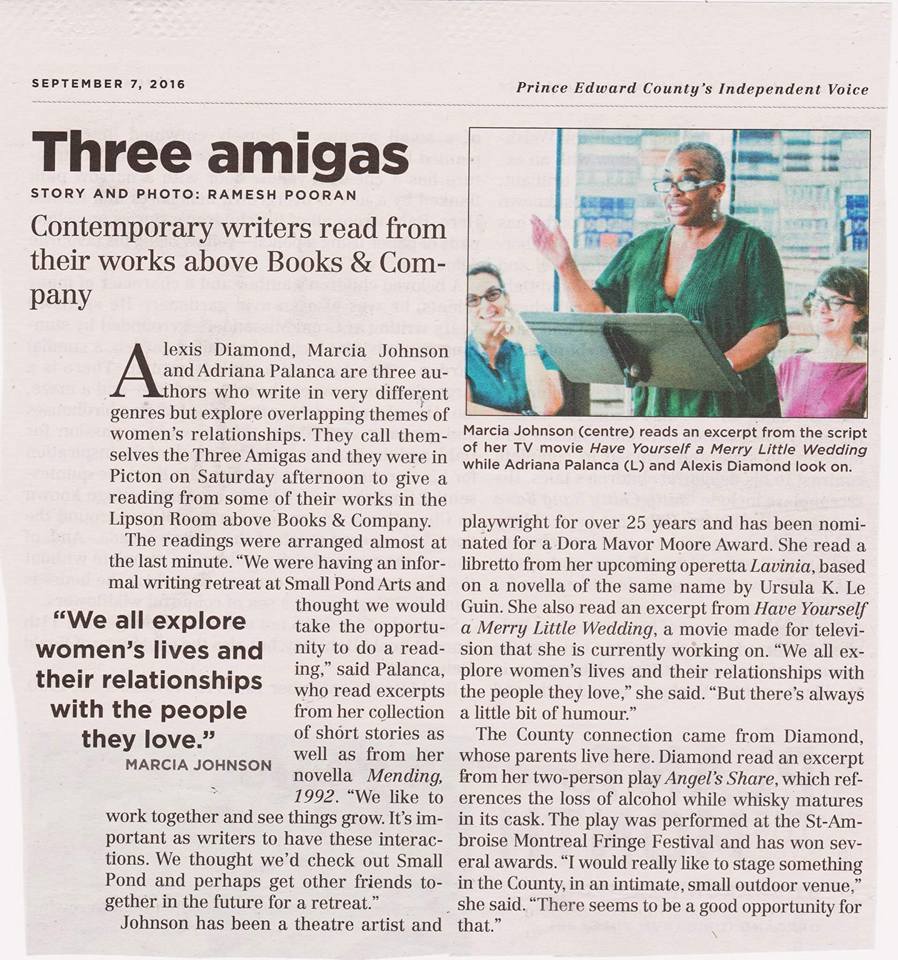 Playwrights Guild of Canada, 29 February 2016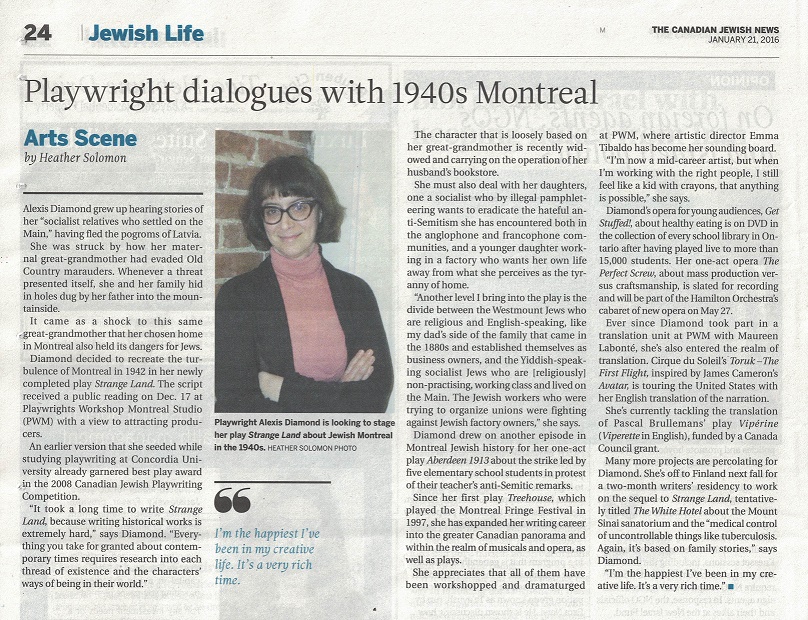 Angel's Share

Chip Chiupka and Stefanie Buxton
Photo Ron Diamond
Reviews
"Things to Do in Montreal: June 21-27"
Posted on June 20th, 2013 by Robyn Fadden
(theatre going) Get in on some of the great, affordable theatre and dance shows this weekend at the Montreal St-Ambroise Fringe Fest – recommendations include Holy Tranity: A Dirty Love Song to the Gay '80s, Little Orange Man, Angel's Share, Love in the Time of Time Machines, stand-up comedienne DeAnne Smith and musician Leighland Beckman's Horrible Things, Josiane Fortin Danse, and many others – talk to anyone at the Fringe Park and you'll get the scoop.
"Hot picks to close out Fringe fest"
by CULTURE TEAM on Jun 21, 2013 in Stage
Quick picks around the theme of unusual romantic pairings: Angel's Share explores the intricacies of a December … um … March "platonic" relationship in the Scottish highlands. Touching drama, lyrical dialogue, and heart-squeezing acting. Bring tissues if you cry in your whiskey.
"Montreal FRINGE 2013: Angel's Share"
Posted on June 21, 2013 by Katherine Garvis
 ANGEL'S SHARE
" Angel's Share is a prime example of what quality theatre should look like. Writer Alexis Diamond simply blew me away with the richness of the script, truly inspiring. Actors Stefanie Buxton and Chip Chuipka were captivating and had me at the edge of my seat hanging on every sentence. This show sold out very fast and now I know why. A big congratulations to Composite Theatre Company on a job well done.
The Montreal Gazette
"The gambles pay off in a weekend at the Fringe"
By Pat Donnelly, Gazette Theatre Critic June 18, 2013
Angel's Share, by Alexis Diamond, directed by Amanda Kellock, tells a touching Scottish tale of love, whiskey and the difficulties of breaking away from the past. Actors Chip Chuipka and Stefanie Buxton have a lovely rapport in this locally created theatre piece.
"Intense finale for Montreal Fringe Festival"
By Pat Donnelly, Gazette Theatre Critic, June 21, 2013
Some shows, like Angel's Share, a new Scottish-themed play by Alexis Diamond, are adult in the sense that they're text-oriented, character-based, talky and propelled by nuanced acting (Chip Chuipka and Stefanie Buxton here). Others, of similar local and theatrical ilk, aren't as professional as Angel's Share.
RoverArts review of Angel's Share by Anna Fuerstenberg
Fringe Lists
Mention in Pat Donnelly's Fringe Wrap-up.
One of CultMTL's Hot Picks of the Fringe!
Angel's Share is one of the Gazette's Top Fringe Pick, according to Pat Donnelly.
Angel's Share is touted as one of five shows to watch at the St-Ambroise Montreal Fringe Festival in Joel Fishbane's article for the Charlebois Post!
Angel's Share made Rover Arts' Top 6 Sight Unseen! All because of our fabulous actors, Chip Chuipka and Stefanie Buxton.
Interviews
Assistant director/stage manager Andrea Frankle and playwright/producer Alexis Diamond talk about Angel's Share with Paul Aflalo and Matt Goldberg on No More Radio.
Montreal Main ARTery Interview, my first about Angel's Share. Listen here.
2013 Frankie Awards
Winner, Segal Centre Award for Most Promising Ensemble Production
Nominee, Centaur Theatre Award for Best English Language Production
Nominee, Beyond the Mountain Touring Award
A real endorsement of our Scottish-themed show!
Angel's Share receives funding from the St. Andrew's Society of Montreal's Cultural Grant program.
News
DONATE A BOTTLE OF WHISKY TO THE SHOW
Invitation from director Amanda Kellock:
Our show, Angel's Share at the Freestanding Room/Fringe Venue Off-B, is about grief, love and single-malt whisky, and it's way fun to drink some whisky while watching it. But we can't afford to buy enough for everyone each night. So! If you would like to donate your favourite bottle of single malt to the cause, we will personally thank you before the show—and so far we've been selling like hotcakes, so it could be great publicity! Yesterday's bottle was generously provided by ASM Performing Arts! Tomorrow night, it could be you….
WIN TWO TICKETS TO THE SHOW
Win two tickets to see Angel's Share at the Montreal St. Ambroise Fringe Festival on June 13!
Suggest a Scotch for the Taste of Scotland Whisky Tasting event presented by the St. Andrew's Society of Montreal on Oct 18. Winners will be drawn randomly from entries.
Taste of Scotland Whisky Tasting is a great annual event featuring an array of Scottish Whisky and food for tasting.
Angel's Share received funding from the St. Andrew's Society of Montreal's Cultural Grant Program and is playing at the Fringe June 13-23, 2013.
Other works by Alexis Diamond
The Perfect Screw: An Opera about Tools
(words: Alexis Diamond; music: Abigail Richardson)
Nominated for the Dora Mavor Moore Award in 2009
Commissioned by Tapestry New Opera for Opera to Go, and presented at Habourfront Theatre, Toronto, in March 2009
Alexis Diamond and Abigail Richardson's The Perfect Screw is a rich story about the rivalry between screwdriver inventors Robertson (a Canadian) and Phillips (an American), competing for the favours of and a contract from Henry Ford; the contrast of domination/submission versus a reliable union between equals underlies the action. Paralleling the historical story is that of a contemporary woman seeking the right tool to fix her new vanity.
John Tetrauds, The Toronto Star, March 27, 2009
The Perfect Screw, at 37 minutes, the evening's longest and strongest piece, by composer Abigail Richardson and librettist Alexis Diamond. It uses the Phillips vs. Robertson screw debate as a metaphor for Yanks vs. Canucks to brilliant, comic effect. All hail new opera!
Tamara Bernstein, The Globe and Mail, March 28, 2009

The Perfect Screw, by librettist Alexis Diamond and composer Abigail Richardson, delivers the full Freudian menace of its title. As Robertson and Phillips race to get Ford Motors to adopt their newly invented screws, the sophomoric innuendos, hammered in by Tom Diamond's staging, were relentless. Yet this was the one piece of the evening that really flew.
The scene where the contemporary Amalia (Dibblee) pushes the orange shopping cart of a well-known hardware chain through imaginary aisles, poignantly singing of "wandering endlessly," was priceless. And the opera's climax slyly subverts its own over-the-top phallicism: When Robertson magically witnesses the modern-day triumph of his screw, it's clear the real turn-on for Amalia is her newfound power as a handywoman. Like all good metaphors, the story spoke to people on its nuts-and-bolts level. Richardson's well-paced score leapt agilely from thought to thought, and included several satisfying ensemble numbers.
Ryan Oakley, Mooney on Theatre (blog), March 29, 2009.

The entire second act [of Opera to Go] was given over to The Perfect Screw. This historical melodrama tells the story of Robertson and Phillips, who both court Henry Ford in the hopes of making their screw the standard.
This opera revels in sexual innuendo. Although the program describes it as an allegory of American and Canadian trade relations, The Perfect Screw is much more about sex than politics. And thank God for that. Sex is always better than trade. Good trade is boring and bad trade is war.  Sex is the opposite.
Not only are the inventors portrayed with high drama but so is the struggle of a modern woman who merely wants to repair a damaged vanity and is –er– looking for the right tool.  Alone, she wanders the aisles of Home Depot; Frustrated, she injures herself; Finally, triumphant, she succeeds.
At times hilarious, at other times moving The Perfect Screw explores the whole range of the operatic emotional canon. That it does so while giving a history lesson on the invention of the Robertson and Phillips screw –that it's so very big while about something so very small– is a remarkable feat.
Its costumes and sets are impeccable. It uses very little but everything it uses is exactly right. The music is perfectly suggestive of industry. It clinks and clicks, reminding one of Raymond Scott's electronics rendered on percussion.  This opera succeeds in everything it does, every piece fitting securely together, held fast by a Robertson screw.
Alexis Diamond: Librettist
Meet the innovators: To be young, gifted and operatic
Claire Caldwell, Eye Weekly,  June 3, 2009.
Okay, we get it. You're sick of the wigs and powder, the 60-year-old Don Giovannis, the walkers and canes blocking the emergency exits. But opera is changing! We swear! Here are some of the fresh young faces helping to make it cool.
Alexis Diamond
Alexis Diamond has shattered the myth that opera just isn't sexy: the playwright's cheeky libretto for Tapestry's 2009 one-acter The Perfect Screw, composed by Abigail Richardson, is bursting with tool-related innuendo. A participant in several opera-creation workshops, Diamond is adamant that solid collaboration is key to pushing contemporary opera forward.