By Alexis Diamond and Shane Krepakevich
With performer-collaborators Andrea Frankle, Patricia Summersett and Ellie MacDonald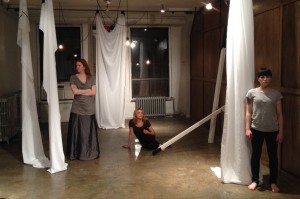 When present,
you shed brightness like discarded clothes.
What do you think your absence brings?
—Building Rooms (2014)
Andrea Frankle, Patricia Summersett and Ellie MacDonald
Photo Shane Krepakevich
An opera without music, using text, space and materials as an open score.
Building Rooms scales theatre down to a direct physicality, while implicating sculpture within dramatic narrative. The intimate, free-form space of the Freestanding Room is the ideal location for this experiment.
Presented as part of Les Journées de la Culture, in collaboration with Espace Freestanding Room.
Saturday and Sunday, September 28 and 29, 2013
Shows at 1 p.m., 2 p.m., 3 p.m.
Length: 30 minutes
Admission: Free
First come, first seated (seating is limited)