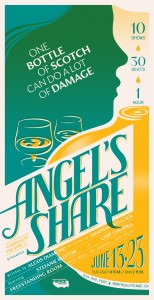 Winner, Segal Centre Award, Most Promising Ensemble Production
Nominee, Centaur Award, Best English Language Production
Nominee, Beyond the Mountain Touring Award
–2013 St-Ambroise Montreal Fringe Festival
ROBERT: I learned everything there was to know about the long, slow, careful process of whisky making. For as the alcohol sits in the cask year after year, time itself fashioning the perfect blend, a portion evaporates into the air.
And the vapours? The vapours appease the angels.
Thus, the name—the Angel's Share.
Angel's Share by Alexis Diamond, directed by Amanda Kellock.
Rural Scotland, the day of Joan's funeral, shortly after the guests have left. Joan's bereaved husband Robert (late 40s) appears at a secret spot by the burn with a dusty bottle he insists on sharing with Beatrice (early 20s), Joan's estranged young Canadian cousin. As they work their way through what turns out to be the last of Robert and Joan's wedding whisky, it becomes clear that the two share more than just memories.
One bottle of Scotch can do a lot of damage in just an hour. Angel's Share distills single-malt whisky, grief and memory in this distorted love story.
_____
Angel's Share par Alexis Diamond, mise en scène de Amanda Kellock.
Dans la campagne écossaise, le jour des funérailles de Joan, suite au départ des invités. Robert (fin de la quarantaine), l'époux endeuillé, apparaît dans un endroit caché près du ruisseau avec une bouteille poussiéreuse qu'il tient à partager avec Béatrice (début de la vingtaine), une jeune cousine éloignée de Joan venue du Canada. Au fur et à mesure que la bouteille se vide – la dernière des bouteilles de noces de Robert et Joan – on réalise qu'ils partagent bien plus que de simples souvenirs.
Une bouteille de scotch peut faire bien des dommages en une heure. Angel's Share distille le whisky de single malt, la douleur et les souvenirs dans cette histoire d'amour tordu.
Cast
Beatrice: Stefanie Buxton*
Robert: Chip Chuipka*
Creative & production team
Playwright: Alexis Diamond
Director/dramaturg: Amanda Kellock*
Assistant director/stage manager: Andrea Frankle
Designer: Ana Cappelluto
Set painting: Lauren Goldman
Artwork: Philippe Legris Design
Printing (posters and coasters): Repetitive Press
French web translations: Manon St-Jules
Angel's Share was workshopped with support from Playwrights' Workshop Montréal. This production has received funding from the St. Andrew's Society of Montreal's Cultural Grant program.
*Appearing by permission of Canadian Actors' Equity Association
_____
The Story Behind the Story 

angel's share = percentage of alcohol that evaporates while the whisky is maturing in the cask.
Angel's Share: A story about grief, absolution, revelation and Scotch whisky
One bottle of Scotch can do a lot of damage. Angel's Share deals with a pivotal moment in our lives—when we awake to the fact that our sense of self might not be fulfilled by a long-idealized idea, person or thing.
But this play is not just about a young woman's abrupt entry into adulthood. As director Amanda Kellock explains, "It's a story about Canada's infatuation with its Scottish roots, and coming to terms with both infatuation and identity."
Beyond that, it's a story about being from somewhere else: most of us Canadians, whether recently or in the distant past, come from somewhere else. A nostalgic, romantic, fairy-tale somewhere else, perhaps. And maybe we too need to let go of the unreal, like Robert, at least a little bit, to be whole.
Ultimately, this is a play about place, memory and the water of life.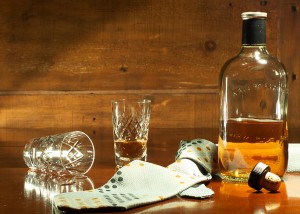 Photo © 2013 Derek Fong; stylist Michelle Diamond.
The Scottish in all of us
When, in 2008, playwright Alexis Diamond toured Scotland with her Hungarian-Canadian husband, they felt entirely at home. Yet, when locals discovered the couple weren't actually of Scottish extraction, they couldn't understand why anyone would undertake such a trip. The fact is, as a Montrealer, a Quebecer and a Canadian, Alexis feels Scottish through and through. The city of Montreal, province of Quebec and country of Canada were settled by Scottish fur traders and French-Canadian voyageurs; their culture is ours. When Alexis lived in Victoria, B.C., in the mid-1990s, she worked at the heritage site Craigflower Farm, settled in the 1850s by Hudson's Bay Company employees from Aberdeenshire. Their stories are ours, too.
Not to mention, there are as many people in Canada claiming Scottish origin—Angel's Share director Amanda Kellock and actor Stefanie Buxton among them—as there are in Scotland. That's five million people in each country.
And Alexis' Jewish grandparents continued to refer to Montreal streets by their Scottish names throughout their lives: Craig Street, St. James Street, Burnside…
Scotland's imprint lies beneath our footsteps, whether we realize it or not.